It's mid-Autumn. Most of the leaves have fallen, a chill is in the air, and many a Vermonter – even some who don't have children, neighbors, or friends out on the field – enjoy going to a high school football game. They go to cheer on their home-town kids – the Champlain Valley Union Redhawks in Hinesburg, the Tigers down at Middlebury High, Colchester High School's Lakers or the aptly named Solons in Montpelier.
Whoops!
Check that last one. Montpelier High fields soccer teams – boys and girls, varsity and junior varsity. But the Solons don't play football any more.
"It was just a lack of numbers and a lack of interest," said Montpelier High School principal Adam Bunting. If the school had fielded a team this year, he said, it would be so small that boys might feel "pressure to play injured" to avoid having the team forfeit a game, as it had to do last year.
Montpelier is not unique. According to figures supplied by the Vermont Principals Association, 33 Vermont high schools fielded football teams in 2006, with 1,945 boys participating. In 2012, 26 schools had teams with a total of 1,159 players.
For two reasons, those figures could overstate the falloff in football participation. First, they may not be complete; schools are not required to report their programs, and one or two small schools may not have informed the Principals Association. Second, football is hardly the only school activity in which fewer students take part. In fact, there are simply fewer students in Vermont than there were several years ago.
But the student population of Vermont high schools fell about 13 percent from 2006, while the number of football players went down by almost a third.
"You are beginning to see fewer and fewer students involved," said Bob Johnson, the associate executive director of the Vermont Principals Association.
High school football in Vermont is not about to disappear. Several programs are thriving. Lots of teenage boys love playing football. Realistically or not, some see the game as their ticket to a college education (perhaps a free one) and maybe even a career in the National Football League.
Besides, as in the rest of the country, the passion, the pace, sometimes seemingly the purpose of life in many a high school centers around football in the autumn. It isn't just the players. It's the cheerleaders, the band, the pep rallies, the booster clubs. For several weeks the game dominates school life, and most students seem to like it that way.
But high school football in Vermont is diminished from what it was, and is likely to be more diminished in the near future. School athletic officials say they would not be at all surprised if more schools drop the sport.
Some smaller and medium-size schools that are near each other might join forces, with just one school fielding a team, but with boys from nearby schools eligible to play on it. Montpelier tried to work out such an arrangement with Williamstown and Northfield High Schools, neither of which has a football team, but it did not work out.
One reason schools might drop football, Johnson said, is that there are now so many more sports alternative for high school students. Some schools have volleyball and bowling teams. Others are considering rugby and ultimate Frisbee.
Besides, considering the need for protective equipment and uniforms, and for several coaches (offense, defense, line, backfield, and maybe special teams), football is expensive.
And about to get more expensive for Vermont high schools thanks to what is almost certainly (though not provably) the other reason fewer boys are playing the sport: the danger of serious brain injury.
"No parent has come to me specifically and said, 'my son is not going to play football because I'm worried about concussion,'" said Trevor Squirrell.
But the very fact that Squirrell is involved in this conversation at all proves that the brain injury threat is having an impact on high school football participation. It also shows that Vermont's athletic, educational, and political establishment is not trying to deny that playing football can lead to serious and disabling head injuries.
Squirrell is not a coach (though he has coached), a teacher, or an education official. He is the executive director of the Brain Injury Association of Vermont, and his association is involved in high school football because both the educators and the Legislature have established a procedure designed to protect student-athletes.
And also, perhaps, to preserve high school football.
And even though there is no conclusive evidence that boys – or their parents – are deciding not to play football out of fear of brain injury, Squirrell does not doubt that such decisions are being made.
"Certainly there seems to be evidence out there that this is happening," he said.
It could hardly be otherwise. The suicides of former NFL players Junior Seau, Dave Duerson, and – most recently – Paul Oliver received extensive news coverage. Autopsies revealed that Seau and Duerson had chronic traumatic encephalopathy, a brain disease that can be caused by repeated blows to the head. Duerson's story is part of a new movie called "The United States of Football," which also cites experts questioning the safety of football at all levels, starting with Pop Warner League "pee-wee" football.
There are no reports of serious brain disease that might have been caused by high school football in Vermont. In fact, there are no reports of any Vermont football player receiving a serious head injury in recent years.
But there have been such incident in other states, and Vermont followed the lead of some of those states by passing Act 68 earlier this year. The law requires schools to adopt an "action plan" for dealing with head injuries in "collision sports" such as football, and establishes a "concussion management plan" which includes a flow chart for what coaches are to do when a player shows any sign of concussion.
"Concussions are going to happen," said Squirrell, in football and in other sports. But if they are properly dealt with, if players are not allowed to return to play – or even to "return to learn" in the classroom – before they are ready, concussions are less likely to lead to brain injury.
The new law also orders coaches to undergo "training in recognizing the symptoms of concussion and how to reduce the risks of concussion," and requires a trained "licensed health care professional" at every interscholastic football game.
Almost all schools already have such a professional on hand, but some of them are emergency medical technicians. By 2015, that level of license will no longer suffice. Some schools will have to find – and pay for – health professionals with more training. Along with other costs of fielding a football team, this could price some schools out of the game.
"Football can be a very safe sport," said Bob Johnson, predicting that it is "still going to be here at some level" for years to come.
But he acknowledged that it might be a slightly different game (getting rid of kickoffs has been discussed at all levels of the sport), and possibly played by fewer players at fewer schools. Though kids can get hurt in all sports (and that includes cheer-leading), the evidence suggests that the risk of serious injury is greater in football.
If more schools drop the sport, it would be more than just a change in athletic schedules. It would be a change in the culture of high school, one that some principals and teachers would welcome, though many in school and in town would regret. Somehow it's hard to imagine a pep rally for the ultimate Frisbee team.
###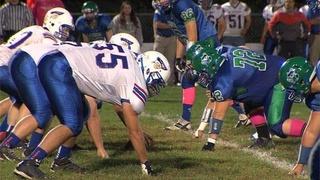 See also: Watch VPT's special,
Damage Control
. A panel of experts and young athletes discuss the issue of concussions in sports, and the response of Vermont schools and officials. Live call-in. Panelists include Alan Maynard, President of the Vermont Association of Athletic Trainers and Dr. Kalev Freeman, Director, Emergency Medicine Research, Fletcher Allen.